Positive qualities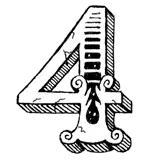 The positive qualities of the Four could be described as purely men's virtues if thousands of women didn't have them. This is high endurance, exceptional working ability, personal organization, commitment to principles and equanimity. You are firm in your beliefs, most important of which is that nothing in this world comes for free, and any reward is to be deserved.
That's why people of your kind are the foundation of any society. They know what to do and can implement it in practice. There is nothing heroic in your manifestations, but all your life is a feat. As a consequence, only few admire you, but everyone respects you.
Do you know that a person's Numerological Profile contains more than 50 numbers,
each describing a certain aspect of their personality?
Negative qualities
When someone wants to point out the Four's weakness, they first mention their stubbornness, slowness and tediousness. From a certain point of view, so it is: you always take your time not to make mistakes, and you'll hold your ground up to the end without losing a chance to rub your opponent's nose in their errors.
Moreover, you never hide your skeptical attitude towards rattle heads, shallow and irresponsible people. Therefore, you are often accused of being too suspicious, and your zero-tolerance of idleness and unwillingness to waste time on idle pleasures gives others a reason to consider you sullen and hard-grained.
Name Numerology
Four in the name numerology – Minor Expression Number, Heart's Desire Number and Personality Number – means the ability to work as much as needed to get the result. This is the ability to win people's confidence and justify it. It also means a talent of accumulating practical skills that make you a really universal employee.
This set of talents provides you with a high degree of being sought after and, not only as a professional. You know everything that a person living among other people should know. One can ask for your help in almost any case. You either do what is needed, or specify how and what needs to be done. It is virtually impossible to catch you off guard.
Birthday Numerology
Four in the date of birth – Life Path Number and Birth Day Number – doesn't imply any unique chance or happy coincidences for you. Your opportunities are of a different kind. They are a direct consequence of your life principles.
Figuratively speaking, you are not the lucky one who was fortunate enough to come across a gold mine by chance. You are a zealous miner who has been working to discover a gold vein on their site.
This is what you can do: work, achieve and fight your way through. Thus you will obtain the desired results of your diligence and patience. These chances in real life are more valuable than any strokes of luck.
Numerology Core
Occupation of people with Four in the numerological core is often determined by external circumstances. This can be a family business or family profession, it may be an occupation traditional for a place or environment where you were born. Finally, it may be the profession that was the first to catch your attention, or something that you were just offered to do.
People like you rarely switch to other profession, for the simple reason that they rarely fail in the chosen field. Your approach to work is characterized as methodical organization of applied type: you get all the necessary information, master the necessary skills, and then just do your thing.
Love & Relationships
Personal life of the Fours is, as a rule, far from being romantic. You have a feature that distinguishes you from other people in this regard: you are really ready for the fact that delights of the big Love and euphoria of possessing the object of your desires give way to monotony of everyday life very quickly.
In itself, such an attitude to life together is quite reasonable and perfectly justified, as it is a guarantee of stability. There is just one small problem: it is rather difficult to find a partner with the same view of things. As a result, someone's romantic nature will severely suffer from your earthiness and lack of inspiration.
See also
Meaning of other numbers: