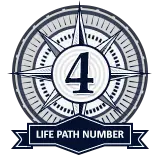 Another unique quality of the Four is in their ability to invariably observe the rules. People of this Number can solve the most complicated practical task without going beyond its framework. Should such a person participate in any undertaking, its safety and lawfulness can be deemed guaranteed.
One can always be able to rely on a Four – at least because people of this number avoid taking risks and prefer using proven methods to solve any given task. Still, if there may be room for improvement, the Four will make it on the basis of own experience, without waiting to be told so.
Key areas for professional development
The Four is a man of system. People of this number like having their professional rights and duties strictly regulated – but at the same time, within these regulations they want absolute freedom of act. They approach choosing a career exactly from this perspective.
That's why in virtually any engineering profession the Fours feel comfortable. The Fours give their preference to mechanics, that requires not only precision and great attention to detail, but also a very special relationship with machines.
Equally successful can be the Four's career in agriculture. Quite often it happens that, having started with gardening and decorating their backyards, the Fours step-bey-step switch to larger projects – trade in real estate, or capital construction.
The Fours know the price of everything around, including both material things, and people. So, the Four has equal chances to succeed as a businessman or a financial expert, and as a true shepherd of human souls – a priest or a missionary.
Finally, the Fours naturally treat their professions with sincere reverence. Moreover, they can pass this attitude to others – spark interest, teach, grow a true professional.
The role of the Life Path Number in picking a partner and in family life
The Four is a reliable friend and companion. As for love relations, this Number is not without its particularities.
From a purely practical point of view, one couldn't find a better partner to live together with: responsibility for the family, sense of duty, industriousness, and strict morals are among inherent qualities of the Four. Someone who decides to share their destiny with a Four, can have not a single worry anymore about their future.
However, there is also a flip side of the coin. The Fours take marriage as a business agreement signed by both parties. As a reliable person, the Four feels entitled to expect 100 percent reliability from the partner. In other words, the Four expects compliance with all the terms of the contract.
It is not pettiness; it's a serious attitude to life, elevated to the level of fundamental principle. Each case of the partner's neglect of their duties is viewed by the Four as a warning that problems might be on their way, and may threaten the family. Until the partner admits the wrong the Four won't settle.