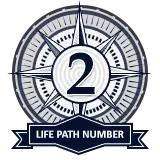 The Twos don't need victory, they need peace, balance and harmony. Joint action helping either party to achieve the desired objectives is a necessary and sufficient condition. The Two's key talent is an ability to see the basis of the others' motivation, to understand what they want, what they expect, and what they can never reject. An opportunity to make an offer that would surely be accepted remains the cornerstone of diplomacy at all levels.
Key areas for professional development
The Twos have a unique talent for gathering information, comparing and analyzing facts, relevant for this or that issue. This is what helps the Twos find an optimal solution in almost any situation.
The most suitable areas of professional engagement for the Twos include those where a strong theoretical base enables them to connect individual facts together and see an overall picture.
The first such area is medicine – a Two can become a great diagnostician, pediatrician, surgeon or psychologist. The second option is teaching career: the Twos become brilliant educators, or highly knowledgeable subject teachers.
The same talents are ideal for careers in law or finance. Moreover, an innate sense of rhythm gives the Twos chance to express their talents in music and poetry.
And last but not least, the Two's talent to keep the peace guarantees success in diplomatic career or religious activities.
The role of the Life Path Number in picking a partner and in family life
With their mildness and even temper, the Two is virtually an ideal partner for a relationship. The Two is always ready to make compromises for the sake of keeping peace and harmony in their families. The Two's natural tact and delicacy make it impossible for serious quarrels over mere trifles to arise.
Still, those living together with a Two should bear in mind certain peculiarities of their nature. The Two can't stand mess, whatever form it may take – mess in thoughts, in deeds, in attitude to home, to clothes, to eating habits. If sees the partner's neglect of some small everyday stuff, the Two may perceive it as indifference, and feel all their efforts useless. This, in its turn, leads to imbalance, which can have extremely unpleasant consequences.